This project has been a long, and iterative process. It was started in the summer of 2016 right before I was headed to high school. I was looking for a fun and quick mode of transportation. This is what I have come up with.
Features:
42V (~40km/hr)
Custom 9AH 10S Samsung 30Q Battery Pack (~25km range in 0 degC weather)
Custom 3D Printed Enclosures
Custom 10A Fast Charging (1hr Charge Time)
XT90 Security Key
VESC 6.0 Controller
Battery % and Voltage Display
83mm Wheels
Bluetooth Phone App
Rechargeable RC Car Remote (~12hr battery life)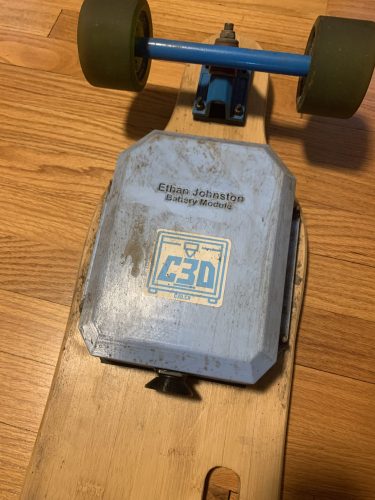 The summer 2020 version of the board is seen in the photos below. The board is powered on once I insert the XT90 Key into the port on the control module side. This acts as a security key and also a power button. One of the 83mm real wheels is indirectly powered with a 6372 2800watt BLDC motor. The power is transferred to the wheel via a 15:36 pulley ratio with an HTD5 265mm x 12mm belt. The standard skateboard components are cloned Caliber II trucks and cloned Abec 11 Flywheel wheels. On the side of the Control Module, there is a battery indicator that shows battery voltage and battery percentage. It is charged with my Lab Bench PSU at a max of 42v 10a but has a more portable charger rated at 42v 2a. The charging connector is seen on the battery module side which accepts a standard XLR male connector. The 3d printed enclosures are very durable I currently considered puddle-proof. I have yet to ride in the pouring rain. With some more R&D, the enclosures could easily be made IP66 rated. The power is delivered from the Battery Module to the Control Module through two  12 gauge wires run through a channel cut in the deck under the grip tape.
After a few dead Lithium Polymer (Li-po) batteries by accidentally leaving them fully charge while I was away on a 30-day adventure, I decided to go all out and do what should have been done in the beginning. I decided to build my own Lithium-Ion (Li-Ion) 18650 battery pack. I chose this format because they are much more durable than li-po cells and can be stored for a few days at full charge without any concern. The pack consists of 30 Samsung 30Q 18650 cells. These are configured in a 10S 3P format allowing for a maximum continuous power output of 45 Amps at 42 Volts. The Samsung cell is rated at 1.33 C and the capacity of each cell is 3000mAh so with 3 cells in parallel this gives 9000mAh and a MAX charge current of ~12 Amps. There is a 10s BMS used solely for charging as the VESC handles over-discharge protection very well.