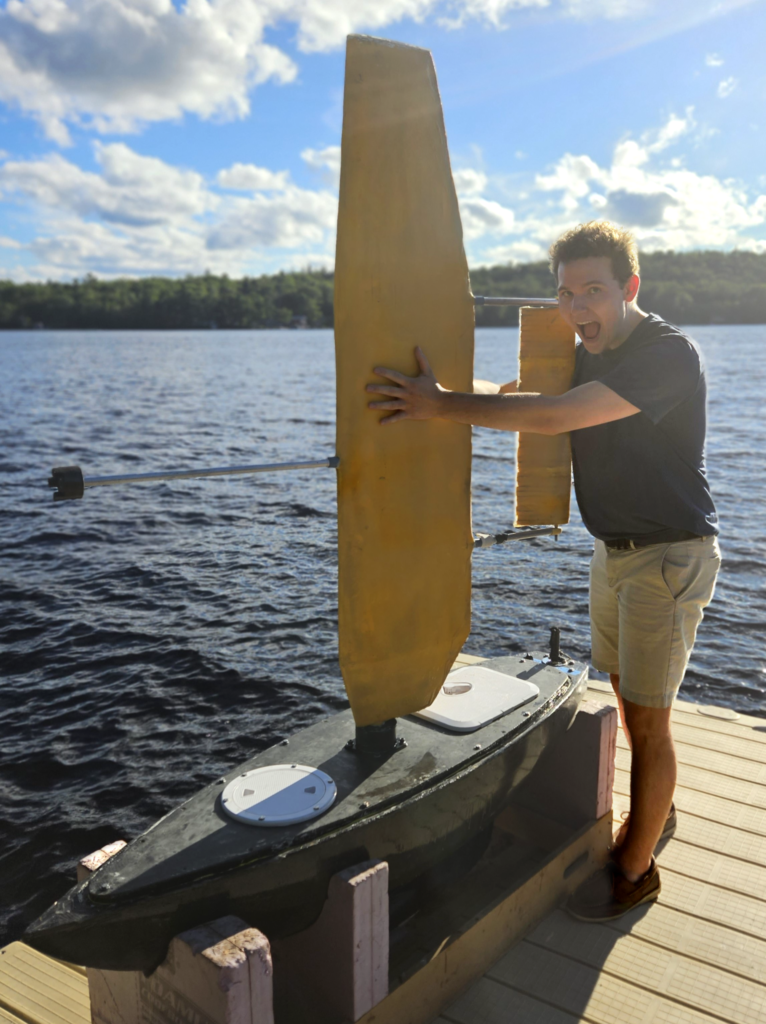 Ethan Johnston, an accomplished engineer based in Halifax, NS, is propelled by his inquisitiveness and unwavering passion for engineering. Pursuing electrical engineering at Dalhousie University, he's laid the groundwork for diverse accomplishments. Noteworthy achievements encompass engineering a high-speed electric skateboard, securing multiple Skills Canada Mobile Robotics victories, co-founding ventures through Junior Achievement, and the role of Electrical Team Lead for the Dalhousie Autonomous Sailboat Team. Ethan loves 3D printing & modelling, robotics, embedded system design & PCB design as well as electronic product development. Ethan notably designed the control system for a renewable energy project. Also, he designed the majority of the electrical system for a transatlantic autonomous sailboat. These feats mirror his dedication and collaborative ethos positioning him to further engineering's frontiers. His journey exemplifies the intersection of hands-on curiosity, technical prowess, and a deep-seated commitment to engineering excellence, embodying a future filled with innovation and impact. His fondness for mentoring and teaching reflects his commitment to nurturing the next generation of innovators and lead him to creating his YouTube channel. 
Experience (as of August 2023)
Junior Embedded Systems Designer – Innovasea ( Summer 2023) – Halifax, NS, Canada
Innovasea is a renowned pioneer in designing the world's most technologically advanced aquatic solutions for fish tracking and fish farming and are known for their equipments resilience in the harshest environments. Ethan developed firmware for the next generation of underwater digital acoustic receivers. The scope of the project encompassed developing C firmware on an STM32 processor to comprehensively assess hardware components without the need for an external test jig. Requirements included voltage rail measurements, precise current consumption measurements, ensuring the flawless operation of communication interfaces like UART, I2C, and SPI, and accurate validation of external clock frequencies. Furthermore, he successfully diagnosed issues with a stepper motors control circuitry—a pivotal element of the acoustically triggered release mechanism for the receiver. This change yielded a noteworthy reduction in standby power , lowering from 6uA to below 1uA. This achievement allowed the use of only one release battery for the entire products life. He also created a software tool to allow for efficient and easy processing of the receivers raw data.
Robotics Engineer Co-op – Provectus Robotics ( Fall 2022 ) – Ottawa, ON, Canada
Provectus Robotics Solutions is an international leader in developing autonomous robotic ground vehicles for private and public security sectors and military and other governmental agencies. He worked with communication protocols such as CAN and ethernet to debug various LIDARS, Radars and GPS'. He programmed various software features, including a robotic computer unit GPS time syncing utility in C++ with automatic time zone detection, and designed geofencing functionality in Python. This geofencing functionality can restrict vehicles to specific areas, such as roads while driving an autonomous route. It is also easily used for creating no-go zones. On top of these tasks, he had everyday tasks of identifying and fixing minor software/hardware bugs and implementing smaller software functions in C++. He completed thorough Acceptance Test Procedures and sanity checks on a variety of autonomous platforms. All hardware and software tasks were managed on Jira, and they had weekly sprint meetings to plan out the tasks for each week.
Electrical Team Lead – Dalhousie Autonomous Sailboat Team ( Jan 2021 – Current ) – Halifax, NS, Canada
Ethan is leading a team of Electrical Engineering Students to develop a fully autonomous 1.5m long sailboat which must sail across the Atlantic Ocean. From Cape Breton, NS, to Ireland. He is responsible for creating and assigning tasks to members and providing technical support to everyone. He works directly with the PCB CAD team because it is the intersection of all the individual sub-components. Our PCB includes as few components as needed while still enabling good autonomy. These include a GPS, an ultrasonic wind vane, a compass, motor drivers, switching and linear voltage regulators, and MOSFETS. A couple of these components must simultaneously communicate data to the microprocessor through I2C, SPI or UART. Before starting the PCB, he designed the battery solution for the boat. He enjoys the PCB design more because it enables collaboration between electrical, software and mechanical sub-teams. Before this role, he was the Software Team lead. The boat autonomy software is written in embedded C++, which runs on a small ATMEL SAMD20 32-bit processor. With the boat, they strive to document their design decisions and solutions thoroughly to enable easier task transition and onboarding of new members.
System Engineering Co-op – Ultra Electronics ( Winter 2022 ) – Halifax, NS, Canada
Ethan worked with the Systems Engineering Team at Ultra to define and review requirements and author documents for the Canadian Surface Combatant Sonobuoy Processing System. A sonobuoy is a small expendable sonar buoy system that is dropped/ejected from aircraft or ships conducting anti-submarine warfare. Multiple can be used together, allowing for underwater GPS triangulation for Underwater ROV systems or identifying the position of underwater threats and much more. He was also able to design a 440V AC Power Disconnect and Distribution Box to aid in Environmental Qualification Testing for a Sonar Array's Power and Control Cabinet.
Electrical / Mechanical Engineering Intern – Centre of Ocean Ventures Entrepreneurship ( Summer 2021 & Summer 2022 ) – Halifax, NS, Canada
Ethan developed an electromechanical system to control and optimize a quad-axial vertical hydrofoil array allowing for more efficient renewable energy generation in low to medium-flow water. He and his coworker were successfully able to transmit 315Mhz RF underwater for communication to the rotating array of hydrofoils. After this summer work, he worked under contract for the Ireland-based renewables company to design and produce a more feature-rich version to be used for their in-tank testing. This involved the electrical circuit design for LORA RF communication, battery management and charging, and motor control and positioning. Full Mechanical design of the IP68-rated device was completed. An ESP32 HTML web control interface was developed and embedded C++ programming was done for the microprocessor. He completed this project during his Summer 2022 school semester. "While it was a lot of work, it was a lot of fun and great being able to design all of the electrical, mechanical and software components in about 2 months' time. To see a complex project through to the end, and it working as expected was a reassuring feeling. While there were a few hiccups and long nights, it got done with time to spare and I learned a lot."
https://www.offshore-energy.biz/tidal-flyer-conducts-tank-tests-at-lir-notf-as-part-of-selkie-project/

Makerspace Supervisor – Emera ideaHUB ( Sept 2021 – April 2022 ) – Halifax, NS, Canada
Ethan helped students bring their engineering projects to life. He also designed a custom mechanical and electrical robot kit for the summer Battle Bot competition.
eCommerce Developer – The Italian Market ( Summer 2020 ) – Halifax, NS, Canada
Redesigned and managed the website, online store, and social media. I utilized HTML, CSS and Javascript with a little dabble of SQL for web development.
Skills NS Robotics Team – Represented Team NS in the Skills National Competition ( 2019 ) – Halifax, NS, Canada
He and his friend won the provincial robotics competition taking them on to represent Nova Scotia in the Skills Canada National Competition hosted this year in Halifax, NS. See Robots.
Marketing & Production VP – BundleBee with Nova Scotia Power ( 2018 – 2019 ) – Halifax, NS, Canada
Developed an all-natural replacement for single-use food packaging. Named company MVP by fellow employees. Was flown to Calgary, AB to pitch at the Junior Achievement National Youth Success Summit. This was a Junior Achievement company.
Production VP – Dr. Paw with Nova Scotia Business Inc. (Nova Scotia Business Inc.) ( 2017 – 2018 ) – Halifax, NS, Canada
Developed an all-natural paw protector that protects dogs' paws from harsh salts and chemical ice melters, preventing them from drying out, cracking, and bleeding. This was a Junior Achievement company.
Skills NS Robotics Team – Represented Team NS in the National Competition ( 2018 ) – Edmonton, AB, Canada
He and his friend won the provincial robotics competition taking them on to represent Nova Scotia in the Skills Canada National Competition in Edmonton, Alberta.
Big Cove YMCA Camp Leadership Program 1 & 2 ( Summer 2017 & 2018 ) – NS, Canada
He adventured on a 120 KM canoe excursion to Cape Breton. 150 KM canoe excursion to Prince Edward Island. Learned childcare. Counselled and took care of children. He learned and developed many leadership skills.
Halifax Grammar School Tech Crew ( 2014 – 2016 ) – Halifax, NS, Canada
He and his friend managed a team and did all of the lighting and sound design on 6+ musicals/plays. They handled all the tech for assemblies, ceremonies, and events. They also developed a system to wirelessly control the ancient light board via MIDI. They could have run all of the musicals/plays from anywhere in the world. This was during grades 6 to 9.
Sexton Scholar – (GPA > 3.85, top 8-10% of engineering students) (2021)
Gold Medal – Skills Canada Provincial Mobile Robotics Competition (2019)
Junior Achievement Achiever of the Year (2019)
Junior Achievement VP of Marketing of the Year (2019)
Junior Achievement VP of Production of the Year (2019)
Junior Achievement Company of the Year (2019)
Citadel High School High Honors List (2017-2018)
Big Cove YMCA Camp Leadership Program 1 and 2 (2017, 2018)
Gold Medal – Skills Canada Provincial Mobile Robotics Competition (2018)
Junior Achievement "Pitch it" wins (2018 & 2019)
Junior Achievement Company Merit Award (2018)
Citadel High School Principal List (2016-2017)
Short film nominated for the Jr Atlantic film festival & the Lunenburg film festival (2016)
Black Belt Choi Kwan Doe (2012-2015)
Robotics
Embedded Systems
PCB Design
Product Design
3D CAD and 3D Printing
Motorized Transportation
Batteries
Problem Solving
Dalhousie University – Electrical Engineering
(2019-2024)
Citadel High School
(2016-2019)
Halifax Grammar School
(2006-2016)