For my sister's Christmas present. A walnut and oak chessboard with 3d printed vapour smoothed chess pieces.
Handcrafted from the finest walnut and oak wood, this competition-sized chessboard allows for easy and quick cleanup. With a simple fold along the centerline, it transforms into the perfect-sized storage box for both coloured chess pieces. The top was assembled first with each square being 2x2in. Eight 2in wide, 17in+ long and 0.6in thick pieces were glued together on their longest/thinnest edges making sure the colours alternated and the best looking sides faced all the same way. These were clamped together and left to cure for 24hrs. After the first glue job was disassembled, 2in boards were stripped from the piece perpendicular to the glued lengths. Every second strip was flipped to form the chessboard pattern and then were glued and clamped together. Next, the frame pieces were glued on and the hinges were installed. The inside was coated with black felt to protect the chess pieces. A bag was made to carry the box.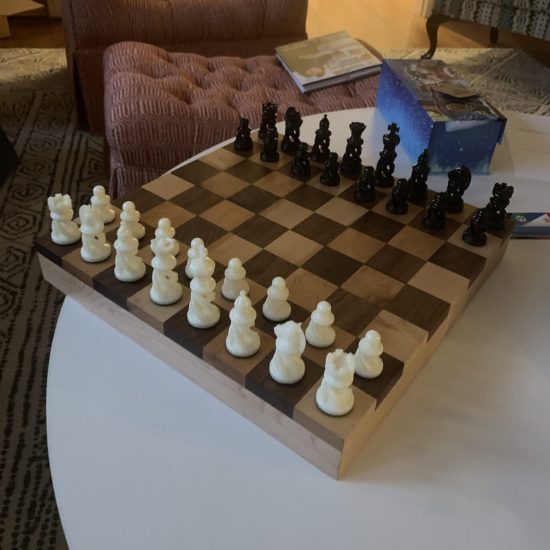 Black and Natural colour ABS were used to 3D print these amazing-looking pieces found on Thingiverse. Once all of the pieces were printed to my satisfaction, they were placed in a chemically neutral box on top of a platform just above a pool of acetone. The box was sealed which kept the acetone vapours inside with a fan to circulate them evenly around the pieces to slowly eat away/polish them. Two bags were made to hold the two colours of pieces.